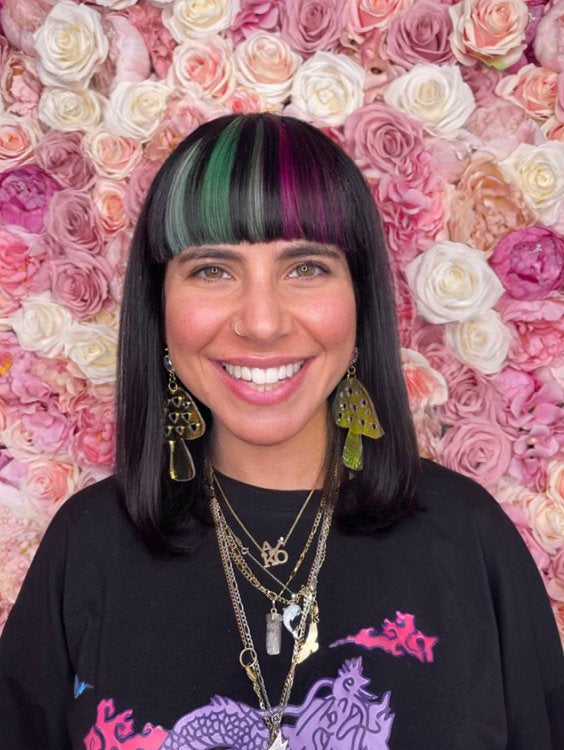 About Trixy Starr
Toronto-born jewelry designer Taryn Wittlin is on a mission to spread love and positive energy.
Following her passion for jewelry design, she began her career selling one-of-a-kind pieces while attending Dalhousie University in Halifax, Nova Scotia. After graduating, she moved to sunny Los Angeles to attend FIDM and then worked for brands such as tokidoki and Gwen Stefani's Harajuku Lovers before going solo with Trixy Starr Jewelry. 
Her jewels have been worn by fashion icon Baddie Winkle and artists such as Aluna Francis of AlunaGeorge, Selena Gomez, and Paris Hilton. Trixy Starr Jewelry has been featured on TV's Pretty Little Liars, in Japanese magazines such as Elle, Egg, Soup, AR and EdgeStyle, and in U.S. magazines such as High Times and Bust Magazine.
Inspired by music, magic, love, and fearless fashion in the streets of Harajuku, Trixy Starr Jewelry is unique in its vintage-contemporary blend and life-affirming energy.
Many of our styles are made using acrylic and base metal. Some of the one-of-a-kind, or a-few-of-a-kind pieces involve upcycled materials and items such as rubber, crystal, glass, polished stones, plush & plastic charms, etc.  
Vibrant, whimsical, and dreamy, if a Trixy Starr original winks at you in the sunshine, grab it quickly before it disappears!